Spaaaß! (for Teenies)
Interactive play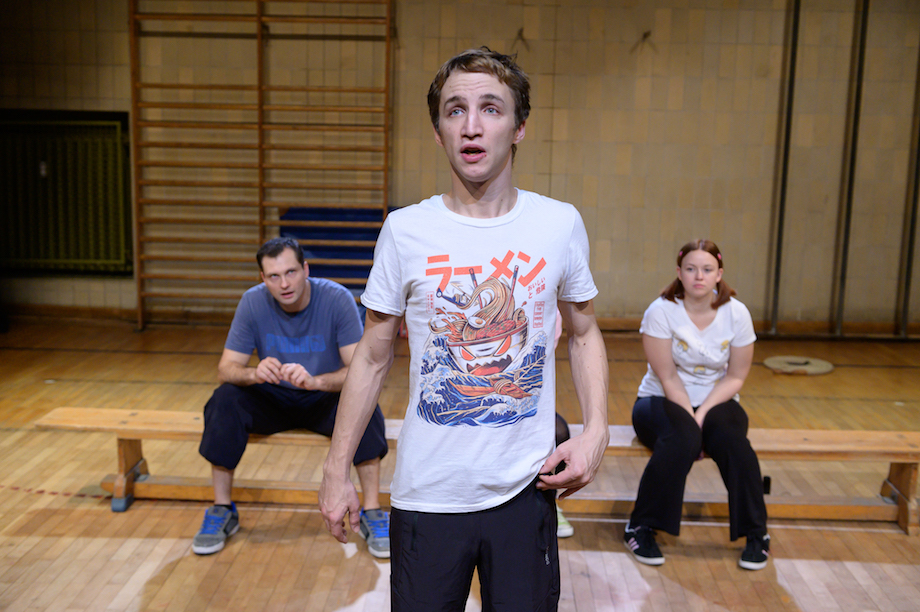 01 / 03
Who decides what's funny …?
What is fun for the kids in 5th and 6th grade is not necessarily the same as for the older kids from year 7 onwards. The younger, pre-teen age groups have different things on their mind than teenagers, they laugh at different jokes, speak a different language and identify with different characters. And often they also don't fancy going to the theatre together. Because of this, Theater Strahl offers the interactive play "Spaaaß!", which addresses the issue of bullying, in two different versions:
Spaaaß! (for Teenies) from year 7 onwards
Spaaaß! (for Keenies) year 5 and 6
Both plays have the same basic story: The kids are waiting for their sports teacher to arrive. The conversation meanders from trainer brands to who is going out with whom. When the teacher arrives, one of the boys has girly hair clips on. That's really funny!
FREEZE! The facilitator interrupts the play for the audience to question the characters about their motives and to make suggestions as to what should happen next. In dialogue with the audience the actors escalate conflicts, improvise, discuss different courses of action and develop alternative solutions.
Informationen
Ensemble
Premiere: 03/ 2011  By: Christian Giese und Ensemble
Cooperation: Mobbing Beratung Berlin-Brandenburg e.V.
Direction: Christian Giese
Costume: Mandy Kiefer/Kaye Tai
Actors:
Christine Smuda
Oliver Moritz
Franz Lenski
Yvonne Yung Hee Bormann
Moderation:
Alfred Hartung
Beate Fischer
Program + Tickets
Date/Time
Play
Rated
Venue
Tickets
Thursday 06.01. → 09:00 h
ab 8. Kl.
Die Weiße Rose

Thursday 06.01. → 09:00 h
ab 8. Kl., Die Weiße Rose

Tickets

kaufen

Thursday 06.01. → 11:30 h
ab 8. Kl.
Die Weiße Rose

Thursday 06.01. → 11:30 h
ab 8. Kl., Die Weiße Rose

Ausverkauft
Friday 07.01. → 11:00 h
ab 8. Kl.
Die Weiße Rose

Friday 07.01. → 11:00 h
ab 8. Kl., Die Weiße Rose

Tickets

kaufen

Wednesday 09.03. → 11:00 h
ab 8. Kl.
Kulturhaus Schöneberg (Probebühne)

Wednesday 09.03. → 11:00 h
ab 8. Kl., Kulturhaus Schöneberg (Probebühne)

Tickets Per E-Mail & Tel.
Friday 11.03. → 11:30 h
ab 8. Kl.
Kulturhaus Schöneberg (Probebühne)

Friday 11.03. → 11:30 h
ab 8. Kl., Kulturhaus Schöneberg (Probebühne)

Ausverkauft
Media Response
Media Response
"An exciting, carefully prepared production that is important in so many ways."
Berliner Lehrerzeitung

"The boundary between stage and audience becomes blurred and, without seeming rehearsed or contrived, and even with all the interruptions, a cohesive story emerges, thanks to the cast's fantastic talent for improvisation and facilitation. … Our verdict: a visit to a Theater Strahl performance is time well spent."
Berliner Zeitung
Booking Enquiry
Or use our online booking form:
Nominated for